The National Weight Control Registry

Research Staff
Ana M. Almeida, B.A.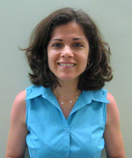 Ana has been working for The Weight Control and Diabetes Research Center since 2003. She graduated from the Katherine Gibbs School as an Administrative Secretary. She is the administrative associate for the National Weight Control Registry, and handles many of the hundreds of mailings that keep the registry flowing. Ana is also a busy mom of three boys: Robert, Brian and Eric. When she finds time, she loves to create beautiful crochet work that she learned from her grandmother in the Azores.

Back